LASER
CUTTING OF STEEL
WORK TABLE
DIMENSIONS 2x4 M
FIND OUT



SHEET BENDING
WE PERFORM BENDS


UP TO 4 M

IN LENGTH
FIND OUT



GRINDING
AND DEBURRING
ALLOY STEEL PARTS UP
TO

1250 mm

WIDTH

FIND OUT



LASER CUTTING
OF STEEL
WORK TABLE
DIMENSIONS 2x4 M
FIND OUT



SHEET BENDING
WE PERFORM BENDS


UP TO 4 M

IN LENGTH
FIND OUT



GRINDING
AND DEBURRING
ALLOY STEEL PARTS UP
TO

1250 mm

WIDTH

FIND OUT
Laser cutting of steel
Laser cutting of steel
We cut structural steel, stainless steel, aluminum, copper, brass and other types of metal sheets.
The dimensions of sheet metal are 2000x4000mm

We cut steel using the latest FIBER laser technology. This technology enables high accuracy and quality of the edges at a relatively high speed of the cutting process.
Stainless steel up to 30mm
Structural steel up to 30mm
Aluminium up to 30mm
Brass up to 15mm
Copper up to 12mm
Sheet metal bending

We perform bends up to 4000 mm in length.
Sheet metal bending on press brakes is a technology that represents the next step in steel processing, after laser cutting.
We have extended our offer with bending of elements up to 4000 mm in length.
The applied technology of dynamic compensation of the deflection arrow allows for high precision and repeatability of shapes both for short series and large orders.
Increased clearance and boom stroke allow us to flexibly respond to the expectations of our clients.
We perform bends up to 4 m in length
Clearance 840 mm
Press force 250 tons
Stroke 430 mm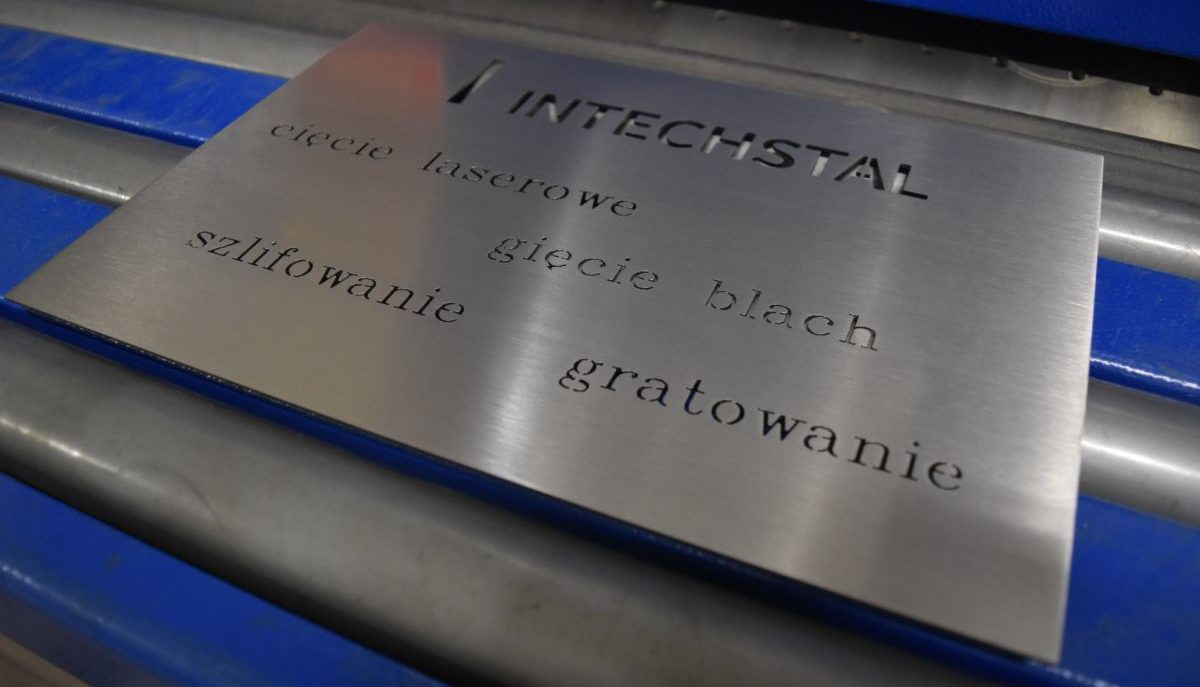 Grinding and deburring
We grind and deburr alloy steel parts up to a width of 1250 mm.
Workpieces processed in this way are used wherever high aesthetics and safety of the final product are required.
Why choose us?
Wide technological possibilities of cutting and bending
Our projects
Our service centre provides services for many industries. We stand out with our great attention to detail and speed of delivery. We deliver the finished product with our own vehicles.
Machinery
Construction
Steel Structures
Advertising
Furniture
Petrochemical
Agricultural
Laserowe cięcie stali
In today's world, precision and high quality workmanship are extremely important. This is why we have been working with metal sheets for many years. We use the latest technologies in our daily work. They allow us to perform precise cuts and bends. This allows us to create elements that meet our clients' needs. INTECHSTAL is made up of experienced engineers who, with the aid of advanced software, can offer extensive cutting and bending services. Therefore we are happy to implement even the most demanding projects. By combining the experience of our employees and modern machines, we are able to perform our work quickly and precisely. We attach great importance to meeting the deadlines. When you entrust us with your project, you don't have to worry about delays. We cooperate and help our clients to ensure competitive and friendly terms of cooperation. You also do not have to worry about the transport of elements. We deliver the manufactured parts with our own transport or based on external transport.
Sheet metal cutting and bending
INTECHSTAL offers precise cutting and bending of metal sheets. Fast execution and delivery of workpieces, flexibility and high quality of services – these are our company's priorities that have remained unchanged for years. Therefore, if you are interested in our services, please do not hesitate to contact us. We will answer all your questions and explain any doubts regarding cutting and bending of sheet metal. We process our orders by taking the following steps:
valuation and determining the completion date based on technical drawings,
precise execution of workpieces while maintaining clean edges and optimal use of metal sheets,
marking and packing of parts according to the requirements of our customers.
As you can see, sheet metal cutting and bending holds no secrets to us. Please feel free to browse our detailed offer and place your order. Who knows, maybe we're just waiting for you? So do not hesitate and trust the specialists in the field of steel processing today.
Nasi Klienci